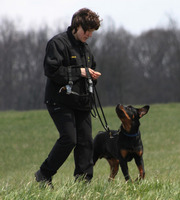 Lucy Newton was involved in search and rescue for over 15 years, training numerous personal dogs for wilderness search and rescue, as well as land and water human remains detection. She has deployed for hundreds of missing person cases in both urban and remote wilderness locations. She has also provided training to hundreds of search and rescue dog handlers and their canines. Lucy also worked for over 10 years as a full-time police sergeant and police canine handler and handled multiple dual purpose patrol/narcotics canines full-time for her police department. Lucy raised and trained all of her police and SAR dogs from puppies. Lucy was a state certified police canine training instructor and served as a field training officer for her department. Lucy has received awards for life saving finds made by her working dogs; they have also had successful finds in human remains detection, evidence recovery, and narcotics detection.
Lucy currently works as an instructor and trainer for the Randy Hare School for Dog Trainers teaching working dog training to law enforcement, military, and professional dog trainers. She competes in a variety of sports with her own dogs and recently obtaining a Champion Tracking title on her current patrol/narcotics detection partner, a 4 year old Rottweiler. Lucy teaches tracking clinics throughout the United States and Canada, emphasizing a training philosophy that allows the dog to satisfy his drive and control his own avenue to reinforcement. Her goal is to create high drive, thinking tracking dogs that can work independently of the handler and be accurate and successful under a variety of conditions.
Lucy offers private coaching to sport dog handlers, specializing in helping handlers understand how dogs communicate and learn in order to create better performances as well as develop a better working relationship regardless of the venue.
Lucy's Current and Upcoming Courses
Current and Upcoming classes