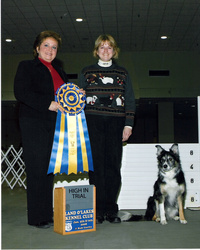 Nancy Gagliardi Little has been training dogs since the early 1980's when she put an OTCH on her Novice A dog, a Labrador Retriever. Since then she has put many advanced obedience titles on her dogs, including 4 AKC OTCH titles, 6 UD titles, 3 UDX titles, and multiple championships in herding and agility.
Nancy is a retired obedience judge, having judged all obedience classes from 1986-2008. She enjoyed judging around the country and had the honor of judging 3 National obedience tournaments in Florida, Kentucky, and North Carolina. She retired from judging to spend more time training her own dogs and competing in obedience, herding, and agility.
Nancy draws from her experience training and competing in multiple sports, which has given her insight into innovative and creative ways of training and handling dogs. She finds that most trainers have no issues training the "big picture," but they tend to lose sight of some of the little details that are the building blocks to the communication and the relationship between them and their dogs. She loves working with very different challenges and trying to help people find a way to improve their communication with their partners.
Over the years, she has moved from a more traditional obedience training background towards reward based/positive methods in training dogs in all areas. As a result she understands the challenges faced by "crossover" trainers and dogs, and can help handlers find their way to newer and more positive training techniques.
Nancy's website is http://www.endzonedogsports.com/ and her blog is https://nancygagliardilittle.com/endzone-dog-sports-audibles/
Nancy's Current and Upcoming Courses
Current and Upcoming classes