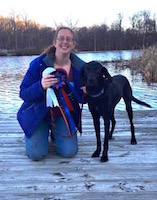 Stacy Barnett lives in New Jersey with her two Labradors, Miniature American Shepherd and Standard Poodle. She's an active competitor in Nosework, Tracking, Obedience, Rally, Agility and Barn Hunt but Scent Sports are her primary focus and her first love. Stacy started her Labrador, Judd, in Nosework using the Operant Conditioning methods as taught by the Fenzi Academy. Judd quickly sailed through NW1 through NW3 Elite in only 13 months, becoming one of the very first FDSA trained Elite teams. Stacy and Judd are a multiple High in Trial team and have titled in both the US and Canada with High Score awards. Together they compete in NACSW, AKC, UKC, SDDA and PSD. Her Miniature American Shepherd, Why, is preparing for NW2 and her Standard Poodle, Joey, recently earned Third Overall at his NW1 and High in Trial at his NW2. Stacy and Judd are competing at the NACSW Elite Division Level where they were invited to compete at the 2017 NACSW National Invitational... where they earned several search placements! Judd has placed in the top 3 overall at many of his Elite Division Trials and holds the distinction of being the first Labrador in the country to achieve ELT2 and was the second dog in the country to achieve ELT3. Judd was also the first Labrador in the country to achieve ELT-CH (Elite Champion). Stacy and Judd have since gone on to become one of the first handful of teams to earn the highest title in NACSW, the Summit Title (SMT). Brava, her young Labrador, is her newest team member. Brava earned all of her Novice AKC titles and has her SDDA Started title (Canada) WELL before her first birthday! She is now prepping for NW2 and working on finishing her Excellent and Masters titles in AKC!
Stacy is an AKC Contractor and is contracted with the American Kennel Club to provide expertise in support of the AKC Scent Work program. Stacy is also an "Expert Judge" and licensed judge with the AKC at for all levels of competition.
Stacy is a longtime FDSA student and trains her Nosework dogs using FDSA methods. She also trains with top local NACSW trainers and Elite Level Certifying Officials on a regular basis. Stacy is an approved AKC Scent Work Judge. With this and her degree in Chemical Engineering, Stacy has developed a solid understanding of Scent Theory with many tools in her toolbox. She prides herself in being able to bring creative solutions to build odor obedience, confidence, drive and motivation for the sport. Judd himself is by nature a timid, soft dog and Stacy has been able to transform him into a highly competitive Elite Level dog. With Why, she has conquered his significant environmental issues... and with Joey she has built tremendous drive where there was little motivation for the sport to start. Her mantra is CONFIDENCE, MOTIVATION, SKILLS and STAMINA. Stacy is the author of the popular blog, Scentsabilities Nosework, as well as being a popular internationally booked clinician for seminars.
One of Stacy's strengths in Nosework is trial preparation. She is able to evaluate the needs of the dog and develop a plan for setting the dog up for success. As a result she was able to prepare Judd for trialing in record time and has enjoyed an extremely high pass rate with fast times and placings. She's an experienced Nosework competitor and knows what it takes to succeed in this exciting sport.
Stacy loves helping others and her enthusiasm for the sport is contagious. Even greater than her love for the sport is her love of teaching. She prides herself on being a highly creative, enthusiastic and caring instructor, easliy able to teach all levels of Nosework students. Stacy loves seeing teams flourish in the sport and enjoy what has become an extremely popular outlet for all dogs.
Stacy's Personal Website and Blog, Scentsabilities Nosework: http://scentsabilitiesnw.com
Stacy's Current and Upcoming Courses
Current and Upcoming classes