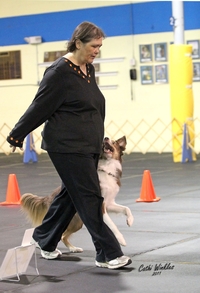 Deborah Jones, Ph.D. is a psychologist who specializes in learning theory and social behavior. She has taught a variety of psychology courses at Kent State University for the past 20 years. Deb has been training dogs for performance events for the past 25 years and was an early innovator in the use of clicker training techniques in dog training. She has owned and worked with a variety of breeds and has earned top level titles in agility (MACH), rally (RAE), and obedience (UD) competitions. Her focus is on developing training methods that are enjoyable and effective for both the dog and the trainer. Her mission is to help others develop strong positive relationships with their dogs. Her favorite saying is "it's all tricks!"
In 2004 Deb developed the FOCUS training system, along with agility trainer and World Team member Judy Keller. FOCUS stands for Fun, Obedience & Consistency lead to Unbelievable Success. They first applied FOCUS training to agility dogs but quickly realized its usefulness for all dog sports. Their latest work is "The Focused Puppy" which lays out a strong and systematic foundation for all future training. Deb has written a series of 4 books with Denise Fenzi titled "Dog Sport Skills." She is currently working on a book on Cooperative Care.
Deb has taught a variety of dog training classes, workshops, and seminars. She loves teaching in an online format!
Deb's website is www.k9infocus.com and her blog is at k9infocus.wordpress.com.
Deb's Current and Upcoming Courses
Current and Upcoming classes
Self-Study Classes - available for lecture purchases only.