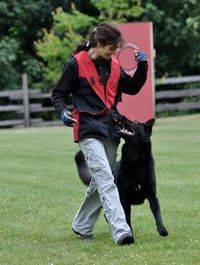 Shade Whitesel has been training and competing in dog sports since she was a kid. Always interested in how dogs learn, she has successfully competed in IPO/Schutzhund, AKC obedience and French Ring. Her retired dog, Reiki vom Aegis, IPO 3, FH 1, French Ring 1, CDX, was 5th at the 2010 AWDF Championships, 7th at the 2012 AWDF Championships, 1st at the 2011 Northwest Regionals, and 2nd at the 2012 Dutch Shepherd Nationals. Along the way, she has received a perfect score in the tracking phase on 2 separate dogs, and a perfect score in obedience with Talender von Grunheide. Reiki is now almost 11, and Shade is currently competing with his son, Ones. Ones just earned his IPO 2 with scores of 99 in tracking, 95 in obedience and 96 in protection. He looks likely to follow in his dad's footsteps!
What started out as an experiment - competing at the National level in IPO without the use of an e collar - has now turned into a firm commitment to the positive method, and the desire to teach other trainers and dogs how to be successful in the bitesports with as little P+ as possible.
Shade's personal website is http://www.shadesdogtraining.net/
Shade's Current and Upcoming Courses
Current and Upcoming classes
Self-Study Classes - available for lecture purchases only.