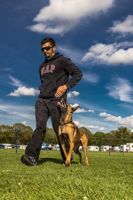 Kamal Fernandez started training in 1991 after getting Scrunch, an independent and free-willled Chow-Chow mix. Like many other first time dog owners, Kamal found himself in for a rude awakening when he got her - Lassie she was not! You name it, Scrunch did it – running away, biting, resource guarding, nervous aggression – Scrunch did it all!
Scrunch prompted a trip to Newham Dog Training Club at Eastlea School. And so began an epic journey into the world of dog training which has taken Kamal from a dog who wouldn't come back when she was called to competing in the Obedience Championship at Crufts!
Since this humble start, Kamal has immersed himself in the world of animal training, led by some of the leading lights in the field such as Sylvia Bishop, Susan Garrett, Bob Bailey, Ian Dunbar and Karen Pryor. This thirst for knowledge combined with his job as a police officer, working with young offenders, and studying psychology has contributed to his dynamic and innovative teaching style and his ability to get the best from his pupils, whether human or canine!
With over 20 years of practical dog training experience, based on a combination of science and hands on experience, Kamal has established a reputation for positive training and has championed the use of reward based methods all over the world.
Kamal's Current and Upcoming Courses
Current and Upcoming classes