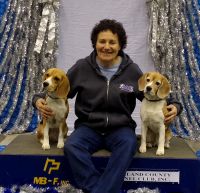 Sue graduated from Cornell University College of Veterinary Medicine in Ithaca, NY, in 1980. After three years in private practice, she joined the U.S. Army Veterinary Corps. While on active duty, she completed a 3 year residency in small animal surgery at Texas A&M University in College Station, TX. and became board certified by the American College of Veterinary Surgeons. She retired from the Army as a Lieutenant Colonel in 2004, after almost 21 year on active duty. After working for a year on a horse farm in Idaho, she returned to Ithaca to join the staff at Colonial Veterinary Hospital as their second surgeon.
Sue retired from Colonial in December 2009. (Her on-call schedule was interfering with her dog show weekends!) The following month, she started working for Shelter Outreach Services, a high quality, high volume spay-neuter organization. About the same time, Sue joined her colleague, a physical therapist / licensed veterinary technician, to start a canine sports medicine practice at the Animal Performance and Therapy Center, in Genoa, NY. The practice is limited to performance dogs.
Sue showed her first obedience dog, a beagle, to a CDX in 1978. Her second beagle, Devon, earned a UD. Two golden retrievers, between the beagles, were great pets and therapy dogs. She currently has two beagles, Charm (CH Wilkeep Third Time's A Charm, UD, RE, MX, MXJ, AXP, AJP, TD) and Ivy (CH MACH Wilkeep Ivy League, CD, TD). Charm is working on her TDX. Ivy is working on her TDX and CDX.
Current and Upcoming Courses
Current and Upcoming classes