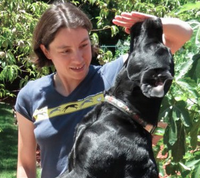 Natasha Gelfand, Ph.D. is a professional programmer and an amateur dog trainer. She developed most technical aspects of the site, programming, and course management. Natasha "retired" as site administrator in April 2017.
She has an undergraduate degree in Computer Science from Brown University and a Ph.D. in Computer Graphics from Stanford. She is the newsletter editor for Golden Gate Labrador Retriever Club and Deep Peninsula Dog Training Club and also maintains the dogshowscores.com website, an online database of AKC obedience, rally and agility scores.

She trains and competes with her labrador in obedience, agility, tracking, and rally.