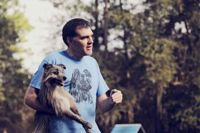 2011 FCI WORLD CHAMPION AND MULTI-TIME USDAA/AKC NATIONAL CHAMPION ASHLEY DEACON
Ashley has had a lifelong love of dogs, which started as a child in the North of England with the family pet - a hooligan Jack Russell terrier called Patch. Patch was an accomplished escape artist and Ashley always took on the responsibility of chasing him down on his escapades through the neighborhood, luring him in with cookies and returning him home. These early dog "training" experiences kindled a desire to own a well behaved and obedient dog and particularly one that didn't continually seek to run away. After finishing college Ashley emigrated to the USA, where he has lived for the last 15 years. In 2002 Ashley decided the time was right to own a dog of his own. After doing much research he settled on an obscure French herding breed, the Pyrenean Shepherd. He was attracted by their natural intelligence, smallish size and rustic appearance. He was mainly looking for a biddable hiking and running companion that he could train. Just before Thanksgiving 2002 Luka arrived on a Continental flight from Cleveland to San Francisco. Luka's first year was spent in puppy and obedience classes. She was not a very confident or outgoing puppy, but she loved the training routine and this helped her grow in confidence. After 1 year of obedience classes, Ashley and Luka discovered agility and started to take weekly agility classes at Power Paws Agility in San Jose. The rest, as they say, is history...
Ashley and Luka have many accomplishments in the 7 years that they have been competing. Their performances in national and international events have continued to improve as they have refined and fine-tuned their teamwork. They have won the Steeplechase finals at USDAA Nationals an unprecedented 5 times, including 4 consecutive years from 2007-2010. In 2007 and 2009 they won both the Steeplechase and the Grand Prix finals. In September 2009 Ashley and Luka helped the USA Medium dog team take a silver medal at the FCI World Championships in Dornbirn, Austria. Ashley and Luka posted the highest combined score in the team competition. Later the same year they participated in the 4th AKC Invitational, where they placed first in all 5 rounds of competition.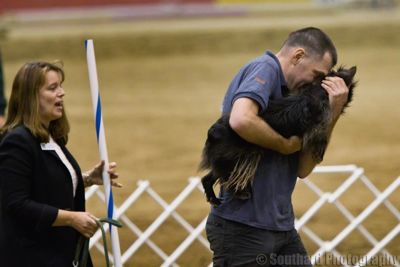 Luka missed 3 months of agility competition during the early part of 2010 after sustaining a strained ligament injury during a winter vacation. However, Luka returned in fine form in 2011. At the 2011 AKC Nationals Luka won both rounds of the ISC State Team competing at the 18" jump height. She then went on to win the AKC National Championship at 16", placing first in 3 out of the 4 rounds of competition (including the final). Luka and Ashley competed at the 2011 FCI World Championships in Liévin, France. Luka celebrated her 9th birthday at the event by winning the individual gold medal, with the highest combined score over the jumping and standard agility rounds, she also took 1st place in the standard agility round to seal the gold medal.
Ashley is now competing with his young Pyrenean shepherd, D'Ash, who won the USDAA/Cynosport Grand Prix 2013 and took the silver medal in Steeplechase 2013.
MACH3 ADCH-Platinum Luka De La Brise (DOB 10/07/02)
First Pyrenean shepherd MACH and ADCH
AKC/International accomplishments
FCI Individual World Champion Medium (2011)
FCI Team Silver (2009)
AKC World Team 2008 (Helsinki, Finland), 2009 (Dornbirn, Austria), 2011 (Lievin, France)
AKC World Team Tryouts Winner 2007, 2008, 2009 (both categories each year)
AKC accomplishments
AKC National Agility Champion 16" (2007, 2011)
AKC Invitational Champion 16" (2006, 2009)
USDAA accomplishments
Lifetime achievement award Platinum
USDAA/Cynosport Grand Prix of Dog Agility Champion 16" (2007, 2009, 2011)
USDAA/Cynosport Dog Agility Steeplechase Champion 16" (2005, 2007, 2008, 2009, 2010)
USDAA Cynosport DAM Team Silver (2006) with Terry LeClair/Heath and Silvina Bruera/Maja
USDAA Cynosport PVP Team Champion (2014) with Terry LeClair/Heath
La Brise Durendal D'Ash AX AXJ (DOB 8/4/08)
USDAA/Cynosport Grand Prix of Dog Agility Champion 16" (2013)
USDAA/Cynosport Dog Agility Steeplechase Silver (2013)