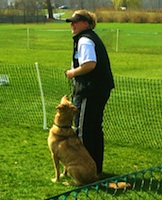 Cassia Turcotte has been involved with the dog training world for nearly two decades and has been training professionally since 1999. With a background in private behavior modification, she has also worked as a kennel manager, volunteer shelter staff, veterinary technician, SAR training officer, and taught classes for both reactive and fearful/wallflower dogs. She completed her first professional certification in 2003.
Midway through her career, Cassia decided to combine her passion for R+ training, love of the outdoors, and a background in waterfowl and upland game hunting. She channeled her training efforts to develop a program for versatile real world hunting companions (both upland, small game, and waterfowl) and building hunt test teams using R+ techniques. Her students have titled dogs for both retrieving and pointing breeds. During the hunting season, you will most likely find Cassia and her dogs in a duck blind or kayak doing what they love most.
Cassia has titled her own dogs in numerous dog sports including hunt tests (AKC, HRC, NAHRA), obedience and rally (AKC, CDSP, and APDT), agility (AKC, USDAA), conformation (AKC)), and Nosework (NACSW). Additionally, she has been involved with both wilderness and urban SAR teams including the evaluation of operational readiness for wilderness air scent and tracking/trailing teams.
Cassia believes in finding joy in the process of training instead of an outcome oriented mindset and she believes strongly that dog training should be a form of structured play. She is an advocate for R+ training methods for field dogs. Cassia is owned by 5 Chesapeake Bay Retrievers, a herd of Kinder goats, flocks of chickens and a variety game birds.
Cassia's personal website is www.barrelselectchesapeakes.com.