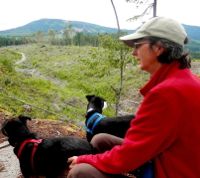 Donna Hill has had a life long love affair with dogs and a fascination with dog behavior. She has broad practical experience in the dog world: volunteering and working in kennels and shelters, dog sitting and walking, fostering rescue dogs, teaching behavior modification privately, and teaching reactive dog classes. She stays current in dog behavior and learning by regularly attending seminars by top trainers and researchers.
She is probably best known for her two Youtube channels (supernaturalbc2008 and supernaturalbc2009). She was also the past group owner of the Facebook group "Observation Skills for Training Dogs". She is active locally as co-founder and professional member of Vancouver Island Animal Training Association (VIATA) and the founder and instructor for Vancouver Island Assistance Dogs (VIAD).
With her own dogs and other pets, Donna loves to apply learning theory (R+) when teaching a wide variety of sports, games, tricks, and other activities such as cycling and service dog tasks. She loves using shaping to get new behaviors. Her teaching skill is in keeping the big picture in mind while using creativity to define the small steps to get to help the learner succeed. She is a splitter!
Donna has competed in agility, flyball, and rally O and teaches people to train their own service dogs. She uses a holistic approach when solving people problems with their dogs.
Donna's classes use step by step training using text, videos and diagrams. Given her background in zoology, she also explains principles, biology and ethology of behavior as appropriate for each topic. Be prepared to do much reading in Donna's classes, as well as do the practical! Join Donna in one of her classes and find out how much fun (and success) positive reinforcement training and learning observation skills can be for everyone!
Donna's Current and Upcoming Courses
Current and Upcoming classes
Self-Study Classes - available for lecture purchases only.