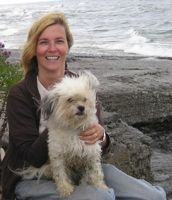 Andrea Harrison is an educator who is passionate about all species, including dogs and humans! Having lived with dogs her whole life, Andrea was an early convert to positive training for people and dogs. She has taken this message to the media many times, including appearances on many TV shows and news programs, as well as print and radio.
Active as a foster home since 1994, Andrea has had many opportunities to work with dogs of all breeds, sizes, and temperament types. She has experience working with a wide variety of people as an educator for 22 years. She has explored the science of brain research and worked with people of all ages on being successful and reducing anxiety and stress using her training in counselling, personality typing, and experiences. Differentiating learning experiences for her students has always been a priority for her.
Her competitive addiction is agility. Andrea and her dogs have many titles between them, with placements in Regional and National competitions with her rock star Brody (pictured with Andrea). Her super star dog Sally is the canine lead in the feature film "Saving Dinah" and Andrea was the animal talent coordinator for the film. She also has experience animal wrangling for television. Lately rally and scent work are capturing her attention as well.
Andrea's Current and Upcoming Courses
Current and Upcoming classes