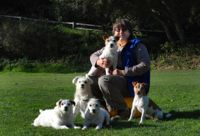 Sandi Pensinger is the author of The Treibball Ball Herding Handbook and the Beginning and Intermediate Treibball DVDs. She teaches workshops in Treibball to trainers and dog owners nationally. She is the moderator of the Treibball Yahoo Group.
Sandi gained early dog experience working in her father's veterinary cardiology practice and Veterinary Post Graduate Institute. She also was involved in organizing the Jack Russell Terrier Research Foundation's DNA Bank. At home on the Monterey Bay in California, she owns Living with Dogs training facility and teaches training, sport, and behavioral modification classes.
Sandi has competed with her champion Jack Russell Terriers in agility, obedience, conformation, nose work, go-to-ground, lure coursing, and racing. Sandi focuses on shaping and training dogs to a level of joy and enthusiasm.
Sandi's website is www.livingwithdogs.us