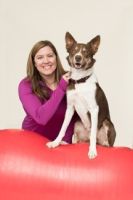 Leslie Eide graduated from Colorado State University's Veterinary School in 2006. She completed a rotating internship in small animal medicine in Albuquerque, NM. She continued her education by becoming certified in canine rehabilitation through the Canine Rehab Institute with a focus in sports medicine. Dr. Eide is now a resident with the American College of Veterinary Sports Medicine and Rehabilitation. Dr. Eide also helped to create and teaches some of the classes to become a Certified Canine Fitness Trainer (CCFT) through the University of Tennessee's NorthEast Seminars.
In the agility world, Dr. Eide has trained two dogs to their ADCH (Agility Dog Champion), one to ADCH Bronze, ATCH2 (Agility Trial Champion), and MACH (Master Agility Champion). Three of her dogs have qualified and competed at USDAA Nationals with multiple Grand Prix Semi-final runs. She currently competes with 3 dogs in agility.
Dr. Eide's interest in sports did not just begin with dog agility. At the age of 5 she began swimming competitively for her local summer league team. She competed in many national events placing 3rd in the 1994 U.S. Swimming National Junior Championship in the 200 Breast Stroke. She went on to compete for the University of New Mexico Swim Team from 1996-2000. In 1998 she broke the school record in the 400 Individual Medley and held that record until 2002. During her time as a swimmer, she learned about exercise physiology, sports medicine, and physical therapy.
Leslie's Current and Upcoming Class List
Current and Upcoming classes