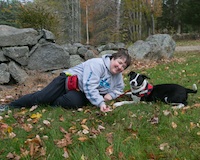 Karen Kay, BS, CSCS, CES, CPS, PES, CPT
Certified Strength and Conditioning Specialist/Coach, NSCA (National Strength & Conditioning Association)
Certified Corrective Exercise Specialist, NASM (National Academy of Sports Medicine)
Certified Posture Specialist, NPI (National Posture Institute)
Certified Performance Enhancement Specialist, NASM (National Academy of Sports Medicine)
Certified Personal Trainer, NESTA and NASM (National Academy of Sports Medicine)
Certified K9 FitClub Trainer and White Mountain K9 Agility Instructor
Certified Master's Level Ice Hockey Coach, USA Hockey & United States Olympic Committee
Coach Kay currently resides in Barrington, New Hampshire with her three rescue dogs and three rescue cats. Bailey the beagle is 13yrs old, Taffy the beagle/jack russell is 7yrs old and Comet the jack Russell/cattle dog. Karen is an active competitor in both agility and barn hunt with both Comet and Taffy.
Coach Kay is a 1985 graduate of Providence College where she was a NCAA Division I scholarship student-athlete in the sport of ice hockey. Upon graduation, she was employed as a certified athletic trainer in a private physical therapy clinic. She then went on to a career in medical sales for a Fortune 500 company and continued to pursue a full time coaching position at the collegiate level. In 1992, she was named the head coach for the United States National Team and to that same position at the University of New Hampshire. Coach Kay was the first female head coach for any country to coach in the World Championships. She remained as head coach at UNH from 1992-2002 and coached in the United States National and Olympic Team Programs from 1992-1998. She was elected to the Massachusetts Ice Hockey Hall of Fame in 2012 and won the Bob Johnson Medallion Award from USA Hockey and the United States Olympic Committee for her contributions to developing the sport of women's ice hockey on an international level. In January of 2015, she was awarded the prestigious Founder's Award by the National College Hockey Coaches Association.
Karen became the Director of Athletic Training and Sports Performance at a seacoast sports medicine practice from 1993-2014. Most recently, she started her own business in November of 2014 called Karen Kay Corrective Exercise. She wanted the freedom to bring her skills to the arena of agility and other canine sports.
"Unfortunately, my playing career was cut short due to injuries and multiple surgeries. I always had a vested interest in both preventing injuries in my athletes and finding the latest and best ways to train them away from the ice. My experience along the way has inspired me to specialize in Corrective Exercise. I enjoy the challenge of evaluating each individual and identifying imbalances and asymmetries that may be contributing to their injuries and or their training for their sport or activity. I have absolutely fallen in love with the sport of dog agility and with the teamwork it takes. I've also observed the desire people have to be able to develop their relationship with their dog and to not allow their own physical limitations to get in the way of that enjoyment. I am looking forward to bringing my expertise to the Fenzi Dog Sports Academy students so that they can continue to thrive as handlers in their chosen dog sport(s)."
Contact Information
Have a question about an upcoming course taught by Karen? Not sure if your dog is suitable for a specific class? We welcome you to contact instructors by email to make sure the course is suitable for you and your dog.
This email address is being protected from spambots. You need JavaScript enabled to view it.
Student Testimonials
AG810 - Handler Fitness
Karen, I have really enjoyed your class. You put a lot of thought and effort into your lessons. Thank you for having an expert eye and giving advice on achieving a correct form. You have given us such variety that we can keep going forever and still have a fresh workout. Before it was either train the dogs or exercise. You know which one won out. Now my exercise sessions give me the opportunity to train my dogs and build strength and body awareness as well as learning to take turns. I love the way you built each module and gave different levels of challenge. The videos were wonderfully helpful. I am very glad I took your course.
---
This class came at a perfect time as I had made fitness a personal goal even before I signed up. I had lists of exercises but spent more time deciding what to do next than actually exercising. Karen provided the structure I had needed. The lectures each week gave us "circuits" to perform that tied together individual exercises. No more struggles to decide. Karen was supportive and encouraging throughout the 6 weeks. I worried about my ability to do the class due to chronic knee problems but Karen was able to help me modify the exercises as needed. To my surprise I have a lot less pain after 6 weeks and in the best of possible worlds, may be able to avoid surgery if I keep it up. And my dog easily learned to stay on her mat during my exercise time until it was her turn. We both had a lot of fun working out together. Sandy H
---
I've taken two classes from Karen. She is thorough in all the assignments and provides written and video instructions for each exercise. She shows different skill levels so I could pick which version was best and also this gave me a look at what I could achieve later. It was super fun to include my dogs in the exercises too. I recommend Karen's classes to anyone who wants to improve their own fitness.
---
Thank you very much for all the time you've spent reviewing the homework. The adjustments you've given me have been so helpful, and I'm hoping that the notes I have with your feedback, I can continue to make progress.
---
Thank you, Karen!! Your courses are awesome! Your feedback is detailed, timely, and always very much to the point. I struggle to find time to stay fit, but your classes give me an incentive to try harder.
AG800 - Agility Handler Skills
Thanks Karen Kay for inspiring us to get ourselves in shape. It's important we learn these human exercises and skills so that we can enjoy a healthy, successful, and enjoyable experience in and out of the agility realm. Physical training for the handler is an area which has been lacking in agility, and I'm pleased to see that Fenzi and Karen are addressing it in such a proactive and readily accessible way! Looking forward to another agility handler skills course.
---
Coach K brings a unique focus on handler movement for the agility competitor. This course is very personalized and all levels of competitor will get great benefit from it. Agility handlers will gain the movement skills to become efficient, effective injury free competitors.
---
My physical therapy from an injury didn't help me move forward with being able to progress in exercising as much as this class did. Karen makes what seems like small adjustments to your form and yet they result in huge changes as far as less pain, accelerating easier or more power. Karen is also a great combination of supportive and encouraging which works very well for me. I genuinely feel like I got more out of this class than I paid for! Karen please keep offering classes like this! Lisa H.
---
I have never worked so hard in any class I have taken but I have seen improvement in my running in just six weeks. We had our fastest agility times during this class. Since I had never been taught proper running mechanics even small changes have made a huge difference. I only wish I could go to a class with Karen in person to really feel some of the more difficult concepts- hopefully she will teach a continuation of this class so I can keep working on myself. Thank you Karen! Sharon F.
---
This was one a very challenging agility class because all the focus was on me, not on my dogs....I suppose that's why I let them wander in and out of every video...LOL Most of the time I felt like I had a lot to learn which is fine because that's the truth... I had to come to some personal mental adjustments about where I'm at and where I need to be...woke me up about my level of fitness (well, lack of!) and I'm reinspired to keep going. I will really miss the class!